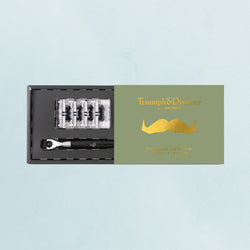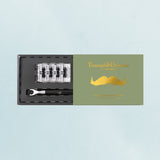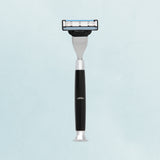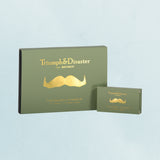 Triumph & Disaster T&D For Movember ® - The Razor + 4x Razor Heads
We accept:  
Description
Introduced by Triumph & Disaster in Movember, every shave not only brings another beaufitul moustache into existence, but Mo bros around the country will be raising funds as they do it. 
Triumph and Disaster has been working over time behind the scenes to bring to life 'The Razor.' A purpose made product for those Mo bros who are out there operating at an exceptionally high level, balancing commitments between work, catching up with mates, family and don't always have the time to organise their facial stubble.
So, Triumph and Disaster decided to take care of these everyday heroes and create a product that gives time back to these champions. Allowing them to spend more time on the things that matter, while taking care of their beautiful moustache in the process. Purchase a Movember razor, add on the 4 blades, and when the time comes simply order 4 more blades. Holding onto your Movember branded handle and owning the way you look in the mirror.
In purchasing this razor you are directly supporting the great work Movember does in men's health, specifically mental, testicular and prostate health - all the good stuff! So purchase this razor and shave with abandon, satisfied in the knowledge you are a good bastard who supports your fellow man.