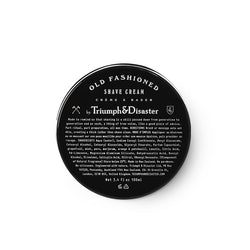 Triumph & Disaster Old Fashioned Shave Cream - 100ml Jar
We accept:  
DESCRIPTION
This Old-Fashioned Shave Cream reminds us that shaving is a skill passed down from generation to generation and as such, a thing of true value, like a good piece of advice. It's part ritual, part preparation, all 'you' time. Triumph & Disaster Shave Cream delivers a great shave without any of the nasties we now frown upon. Unique aromas of old school medicinal notes, bright, fresh citrus tones and a hint of Turkish barbershop at the back end, evoke a sense of tradition and nostalgia befitting a gentleman's morning ritual.
100ml PET jar
Things you need to know:
1/ The best old-school knowledge with the best of modern (natural) science – produces a super smooth and unbeatable close shave.
2/ No Denatured Alcohol or Concen- trated Menthols. Natural non irritant focused shave cream – ideal for sensitive skin.
3/ Natural Lanolin and Coconut formulation. Gentle natural ingre- dients that combine to produce
a super thin slick and soft gentle foam.
KEY INGREDIENTS
Coconut Oil Extracts: The combination of coconut oil ex- tracts, organic compounds and fatty acids act as surfactants, reducing surface tension and allowing the wa- ter and oil components of the cream to combine creating a perfect lather. This action works to soften bristles and prepare the hair follicles, allowing the blades to get closer to the skin and create a super smooth result.

Lanolin: Lanolin is a natural emollient with moisturising and protective qualities. As ancient as man, this all-purpose ingredient is rich in oils and active agents, creating a natural glide on the surface of the skin that produces a crisp, smooth shave with any style of razor.
ALL INGREDIENTS
Aqua (Water), Sodium Cocoyl Isethionate, Decyl Glucoside, Cetearyl Alcohol, Cetearyl Glucoside, Glyceryl Stearate, Parfum (Spearmint, Grapefruit, Mint, Peru, Marjoram, Orange & Patchouli), Lanolin, Citric Acid, †d-Limonene, Magnesium Aluminum Silicate, Dehydroacetic Acid, Benzyl Alcohol, †Linalool, Salicylic Acid, †Citral, †Benzyl Benzoate. (†Component of Natural Fragrance)