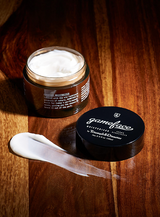 Triumph & Disaster Gameface Moisturiser - Jar 100ml
We accept:  
DESCRIPTION
Gameface moisturiser is a tool to serve and protect you from the elements. Specifically engineered to be light on the skin and easily absorbed, Gameface is a unique formulation of Jojoba extract, Horopito oil, Ponga fern (Cumingii) and Vitamin E, combined with a subtle infusion of essential oils to deliver a fragrance we call 'smoke and wood'. The result is a nutrient-rich, hydrating cream that will leave skin feeling toned, supple and fresh.
A great moisturiser should add elasticity and toning; it should deliver active ingredients that work with the skin's composition assisting it to stay in balance and uplifted. It should have active properties that can treat and protect the surface of the skin, addressing any surface inflammation or abrasions. And of course, it should work to hydrate the skin, locking in the good oil to keep skin enriched and healthy.
Ladies & Gentlemen we present to you 'Gameface'.
100ml PETG jar 
Things you need to know
1/ Light and non-greasy. Engineered to hydrate and rejuvenate skin, it is specifically designed to be non oily and easily absorbed.
2/ Gameface is a natural formulation that utilises clinically proven green science to deliver lift, tightening and protection against the elements.
3/ Unique indigenous New Zealand ingredients – Ponga fern and Horopito leaf – both deliver antioxidant and healing properties.
DIRECTIONS
I - Place a small amount on the palm of your hand
II - Massage into face and neck for a natural, soothing and hydrating experience. Adjust the amount to suit yourself. Dry skin may need a larger amount, oily skin types will require less.
III - Massage until absorbed & attack the day
KEY INGREDIENTS
Jojoba: A botanical extract from the seed of the jojoba tree. Jojoba helps make Gameface light and non-greasy, being a wax ester it is the closest thing to the oil your skin naturally produces, so it is easily absorbed and works with your skin rather than fighting against it.

Horopito: Found in New Zealand's backcountry, is one of the world's oldest flowering plants, having been around for over 65 million years due in large part to its amazing chemical defence system. Horopito works as a fantastic antioxidant and conditioning agent in Gameface.
Ponga: Is an amazing species of fern that grows right down the bottom of the world in New Zealand. It has natural properties that are proven to deliver lift, reduce wrinkles and deliver a natural toning and tightening effect on your skin. The magic is its unique composition of polysaccharides which form an elastic film that tightens and lifts.
ALL INGREDIENTS
Aqua (Water), Coco-Caprylate, Glycerine, Cetearyl Olivate (Olive Oil Extract), Sorbitan Olivate, Jojoba Esters, Cyathea Cumingii (Fern) Leaf Extract, Tocopherol (Vitamin E), Tapioca Starch, Cetearyl Alcohol, Myristal Myristate, Benzyl Alcohol, Salicylic Acid, Sorbic Acid, Carbomer, Parfum (Patchouli, Cedar, Geranium, Jasmine, Lavender & Sandalwood), Sodium Phytate, Lecithin, Pseudowintera Colorata (Horopito)
Leaf Extract, Panthenol (Pro Vitamin B5), †d-Limonene, †Linalool, †Citronellol, †Cinnamyl Alcohol, †Eugenol, †Geraniol, †Benzyl Benzoate. (†Component of Natural Fragrance)