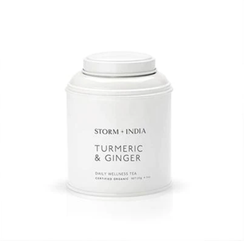 Storm + India Turmeric + Ginger Tea (120g Loose Leaf)
We accept:  
DESCRIPTION
Storm + India's restorative, caffeine-free Ayurvedic tea blend is made from certified organic ingredients from Darjeeling Tea Gardens. It's full of plant-based goodness to nourish the soul and promote balance in the body. Golden turmeric, zesty citrus and spicy ginger, for warmth and wellness.
Storm + India modern tea tins were created to keep the organic loose leaf tea fresh and retain its aromatic flavour. The sustainable food grade tea tin has been designed with two lids to protect the tea from light, air and humidity. The tea tins are packed in recycled cardboard boxes printed with plant-based inks. The brand creates a cool design statement on any kitchen bench or workplace shelf. 
DIRECTIONS
SERVE - Straight. Drink all day to keep hydrated and well.
MEASURE - 1 teaspoon per cup
BREWING TEMPERATURE - 100°C
BREWING TIME - 3 minutes
Organic ingredients: Turmeric*, Ginger*, Liquorice*, Lemongrass and Orange Peel*.
*Certified Organic
Contains Liquorice | Caffeine-Free

AWAKEN: Lemongrass, Orange Peel
ADAPT: Liquorice Root
WARM: Ginger, Turmeric
NOURISH: Ginger, Turmeric, Orange Peel
Certified by BioGro New Zealand. Certified Organic, Vegan, Plant-based