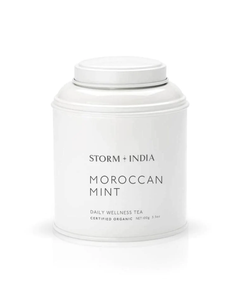 Storm + India Moroccan Mint Tea (100g Loose Leaf)
We accept:  
DESCRIPTION
An organic Morocan mint-infused green tea for hydrating and reviving. Jam-packed with antioxidants and gut soothing mint, this blend is perfect when served either hot or over ice.
Storm + India's teabag range doesn't just taste beautiful, it keeps our planet beautiful too. Storm + India's fully biodegradable, plastic-free teabags are very special in that they are carefully handstitched from natural cotton muslin and each contain three grams of organic blends, allowing for each teabag to be infused twice, making for great value and full aromatic flavour.
All delicious aromatic wellness blends are made from certified organic tea, medicinal herbs and botanicals. Certified organic by BioGro New Zealand.
Sustainable design principles are reflected in the modern tea tin design, with two lids retaining freshness and aromatic flavours. Housed in a recycled cardboard box printed with plant-based inks to form a contemporary design statement on any kitchen bench or workplace shelf.
DIRECTIONS
Enjoy this revitalising wellness drink as a traditional hot tea or a refreshing iced tea.
MEASURE - 1 teaspoon per cup
BREWING TEMPERATURE - 80°C
BREWING TIME - 3 minutes
Ingredients: Organic Green Tea*, Moroccan Mint*
*Certified organic