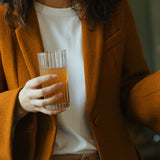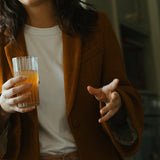 Storm + India Imperial Earl Grey Tea (130g Loose Leaf)
We accept:  
DESCRIPTION
A delicious and inviting blend of Darjeeling black tea. Rich in antioxidants to reduce inflammation and orange peel, high in vitamin C, to boost collagen production.
The black tea used in Storm+ India's Earl Grey comes from certified organic tea gardens in Darjeeling, India. The Ambootia Tea Estate in the foothills of the Himalayan mountains is one of the most famous tea estates in Darjeeling. The vibrant bushes, nurtured by the misty mountain air and pure Himalayan water produce the finest tea leaf. Expert harvesters with nimble hands pick the best leaves, which are carefully crafted to create the legendary flavour of Darjeeling teas. The orange peels used come from certified organic orange groves, also in the Ambootia Tea Estate. The orange peels are sun-dried to give them their distinct aroma and flavour.
Once you try this Earl Grey, you'll wish for nothing else. A traditional, elegant tea, it's our ingredients that make this tea so special. We use high-altitude organic black tea from the foothills of the Himalaya mountains along with pure bergamot oil and sun-dried organic orange rind. A perfect aromatic afternoon pick-me-up, Earl Grey can be enjoyed with a splash of milk and sugar or black with a slice of lemon.

Certifications: BioGro New Zealand, Certified Organic, Vegan, Plant-based
ALL INGREDIENTS
List of ingredients: Darjeeling Black Tea*, Orange Peels and Bergamot*
*Certified Organic
DARJEELING BLACK TEA - black tea is rich in polyphenols (a type of antioxidant) which support the reduction of inflammation.
ORANGE PEEL - Vitamin C containing orange peel helps to reduce redness, improve wound healing and boost collagen production.
Contains Caffeine

DIRECTIONS
SERVE - Straight black, with a splash of plant-based milk, organic sugar, or a squeeze of lemon
DRINK ME ICED - Brew straight black and pour over ice, add a dollop of artisan honey.
DRINK ME WARM - Infuse straight black, add artisan honey to taste. Gently steam plant-based milk such as coconut or almond, being careful not to boil the milk. Add milk to the brewed tea and enjoy.
MEASURE - 1 teaspoon per cup
BREWING TEMPERATURE - 100°C
BREWING TIME - 3 minutes