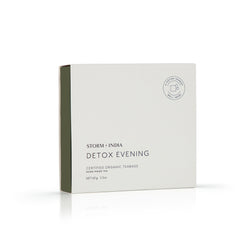 Storm + India Detox Evening Tea (21x 3g Teabags)
We accept:  
DESCRIPTION
A calming tea.
Enjoy a cup of warm Detox Evening Tea before you drift off to sleep or zen out. This delicious caffeine-free tea is made with medicinal herbs formulated to support digestion, bloat, relaxation & stress.
Storm + India's teabag range doesn't just taste beautiful, it keeps our planet beautiful too. Storm + India's fully biodegradable, plastic-free teabags are very special in that they are carefully handstitched from natural cotton muslin and each contain three grams of organic blends, allowing for each teabag to be infused twice, making for great value and full aromatic flavour.
All delicious aromatic wellness blends are made from certified organic tea, medicinal herbs and botanicals. Certified organic by BioGro New Zealand.
Ingredients: Organic Liquorice Root* Peppermint Leaf*, Sweet Fennel* Chamomile Blossom*, Tulsi Herb*
*Certified organic
Caffeine-free