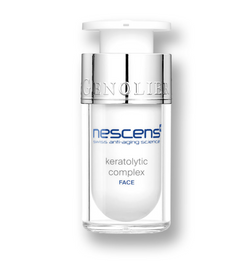 Nescens Keratolytic Complex
We accept:  
Description
Anti-aging face intensive peel that leaves the skin re-texturized and visibly smoothed and taughtened. Skin roughness appears diminished. 
Keratolytic Complex is an extremely powerful face exfoliator. Your skin will be visibly smoother, as if freshly toned and firmed. Skin roughness is diminished while the appearance of pores is tightened. The complexion appears more even and the youthful appearance of facial features is restored. The resurfacing technique by Nescens permits a complete cell renewal. Keratolytic Complex combines a polyhydroxy acid with an intensive exfoliating agent. Their synergistic effect encourages a complete renewal of the skin's outer layer. Its active composition leaves the skin perfectly re-texturized. You will never feel rough skin again
Directions
As part of the Nescens cosmeceutical skincare program, apply the Keratolytic Complex after the Nescens Cleansing Gel preferably at night, once or twice a week, on face and neck, avoiding all contact with eyes. Leave the cosmeceutical on for 5 minutes. Remove all of the product with a damp cloth. Dry well.
15ml