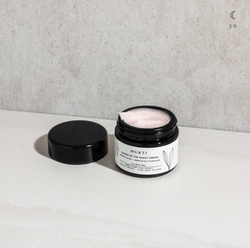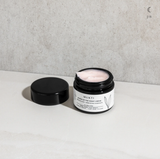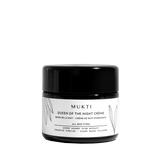 Mukti Organics Queen of the Night Creme 50ml
We accept:  
DESCRIPTION
This sumptuous and deeply moisturising night crème is fortified with Australia's premium super antioxidant fruit: Queen Garnet Plum. Combined with Ceramide Complex, plant-based Stem Cells and naturally-occurring antioxidants, this crème will restore, repair, and deeply hydrate your skin while you sleep.
Suitable for all skin types, and especially recommended for those with mature skin in conjunction with Mukti's Age Defiance collection.
KEY INGREDIENTS
Queen Garnet Plum (Prunus salicina): Queen Garnet is a powerhouse of bioactive compounds and has been specifically cultivated with a longer ripening cycle on the plum tree, to produce greater antioxidant capacity than the average fruit.
Ceramide Complex: Ceramides combined with cholesterol and free fatty acids, are the main lipids found in the stratum corneum of the skin preventing excessive water loss and protection from external aggressors.
Epidermal Growth Factor – Key messenger polypeptide: Plant-based Collagen acts as a building block and booster for collagen synthesis, tightening the dermis and epidermis while preventing senescence, reducing wrinkles, and enhancing skin brightness.
Real results: 
98% saw an improvement in moisturisation and skin smoothness
84% saw a reduction in skin roughness
82% experienced a soothing effect
78% experienced increased volume / plumpness
*based on customer trial of 50 participants.
DIRECTIONS
Apply to face and decolletage after cleansing and toning.
Pregnancy and breastfeeding safe.