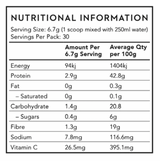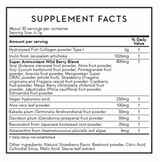 Mukti Organics Bioactive Collagen Powder 200g
We accept:  
DESCRIPTION
Mukti Organics' Bioactive Collagen Booster is a non-vegan, organic beauty collagen powder product specifically formulated with Verisol Collagen Peptides* that works to optimise skin, hair, gut and nail health.
Collagen gives skin structure, and as we age, our collagen levels decline. It is clinically proven that supplementation with marine collagen replaces and replenishes lost collagen that our body can not produce itself. 
To further enhance results, our formulation is also combined with key anti-ageing and antioxidant ingredients including Vitamin C, Astaxanthin, Resveratrol, and Hyaluronic acid.
Infused with wild berry antioxidants to provide a refreshing raspberry flavour that can be enjoyed with water, or your favourite smoothie.
*2.5 g per serve of Type 1 & Type 3 Verisol Collagen Pepitides.
DIRECTIONS
Stir 1 scoop (6.7g) into the 250ml of water or a drink of your choice. Repeat daily for results.
INGREDIENTS
Hydrolysed Marine Collagen powder (45%), Jerusalem Artichoke (Prebiotic 90% Inulin)*, Super Antioxidant Wild Berry Blend (12%) (Acai juice powder, Amla fruit juice powder*, Goji powder, Pomegranate juice powder, Acerola powder, Mangosteen Super ORAC powder, Strawberry juice powder, Cranberry juice powder, Maqui berry freeze-dried powder, Jabuticaba juice powder, Schisandra berry powder*), Natural Strawberry flavour, Beetroot powder*, Hyaluronic acid (Vegan), Citric Acid, Silica Colloidal (Anhydrous), Malic Acid, Aloe Vera juice powder*, Stevia RbA*, Kakadu Plum powder**, Davidson Plum powder**, Resveratrol, Astaxanthin (Red Algae).
*Certified Organic. **Wild Harvested. Contains: Fish. May contain: wheat, dairy, peanuts, soy, nuts and eggs as product is made on equipment that also processes products containing these ingredients. No GMOs, artificial colourings, flavourings or preservatives. Nutritional Information is calculated on product mixed with water. Mixing with another beverage may change nutritional information.