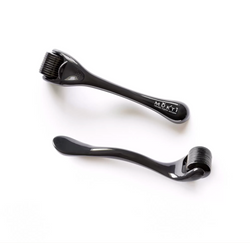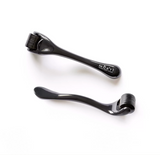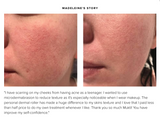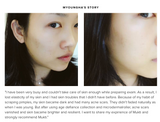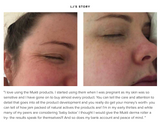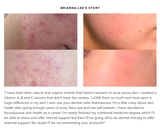 MUKTI Micro Dermal Roller
We accept:  
DESCRIPTION
An easy, gentle at-home microneedling skin treatment that improves the tone and texture of skin, creating a more vibrant complexion.
When rolled across the skin, the 0.25mm microneedles create very small micro channels on the surface of the skin, enhancing the overall efficacy of serums and moisturisers by 40%. It achieves this by aiding passage to the outer dermal layer and allowing the active ingredients to penetrate, triggering the skin's natural repair process and the production of collagen and elastin. The result is firmer and plumper skin over time, with enhanced collagen production. Regular use has proven to be effective for uneven skin tone, diminishing light scars and pigmentation. 
Enhance and improve product penetration by up to 40%.
Assists with collagen production, fine lines and wrinkles.
Effective for uneven skin tone, facial scars and pigmentation.
Suited to: Mature skin types, skin prone to large pores and/or unevenness


DIRECTIONS
Thoroughly cleanse your skin to remove all traces of make-up and pat dry with a soft towel.
Gently roll up and down across each section of your face 3-4 times using an equal speed and light pressure. Avoid eyes and lips.
First roll vertically, then horizontally and then diagonally in a Union Jack pattern. Complete this on each area. (You may need to vary the pressure on the more sensitive areas of your face).
The treatment should take a couple of minutes and can be repeated 2-3 times a week.
Apply appropriate Mukti serum or elixir and press onto the skin until absorbed.
Products may "spike" or tingle after application. This is a normal sensation. If irritation develops, discontinue use or use less frequently. Ideally, and for optimal results, the dermal roller should be used for up to two minutes morning and night.
Cleaning: 
Sterilise with (boiling) hot water after each use.

Once a month, add a few drops of tea tree essential oil to a water solution. Dip a toothbrush into the solution and clean only the metal head of the Dermal Roller. 

Avoid submerging the Dermal Roller into the tea tree/water solution.

Replace every 6-12 months.
Made from fine titanium alloy. 0.25mm needles.