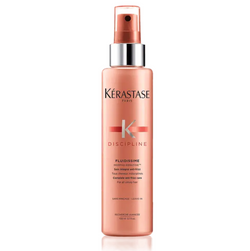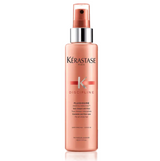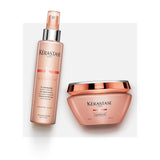 Kérastase Discipline Spray Fluidissime 150ml
We accept:  
DESCRIPTION
Spray Fluidissime is designed to smooth and restore hair and provide manageability and anti-frizz protection for up to 72 hours. Thermo-protecting properties ensure a faster blowdry, an instant softness and intense shine with a lightweight touch. 
Ideal for all types of curly hair in need of discipline.
Made in Spain. Fully recyclable packaging. 
The Kérastase Discipline range has been developed for unruly, curly hair looking for shape and definition. Curly hair enjoys incredible definition without rigidity while wavy and straight hair receive anti-frizz benefits.
KEY INGREDIENTS
Morpho-Kératine™ Complex:
Morpho-Constituing Agents and Surface-Morphing Polymers: Restore hair homogeneity and coats the fibre to provide manageability and anti-frizz protection.
Conditioning Agents: Reduces static effects and frizz.
Shine Amplifier: Brings shine to the hair.
Xylose: Thermo-protective properties.
DIRECTIONS
Spray Kérastase Discipline Fluidissime onto hair before blowdrying. Dry and style as desired. Do not rinse.
A skin patch test before use is recommended.