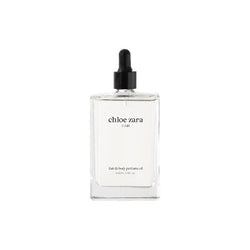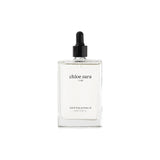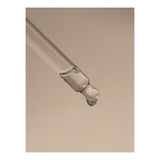 Chloe Zara Hair & Body Perfume Oil 100ml
We accept:  
DESCRIPTION
Our premium pre and post styling leave-in treatment for all hair types. A lightweight hair oil, packed full of nutrients to protect and nourish the hair while leaving it smelling divine. The hair & body perfume oil will not only protect your hair from the heat of hot tools, but also UV rays and pollution. Smoothes frizz and seals split ends for a high-gloss, silky finish. The hair & body perfume oil has an amazing natural ability to moisturise and condition the skin, packed full of vitamins, essential fatty acids and antioxidants. 
Fragrance: Chloe Zara Signature fragrance of Saffron, Pineapple, Fig & Sandalwood, created in Grasse, France.
Also available in a 30ml size.

KEY INGREDIENTS
Cucumber Oil, Cacay Seed Oil, Moringa Oil, Watermelon Oil, Kakadu Plum Oil, Tsubaki Japanese Camellia Oil. 

DIRECTIONS
On Hair: Use sparingly on wet or dry hair as a therapeutic leave-in treatment or as a protective pre-styling foundation to all heat-styling techniques. Apply to your hands and rub together so there is an even coverage of oil, then apply firstly to mid lengths and ends of damp hair combing through to insure it is evenly dispersed. As a finishing touch apply to dry hair to smooth any flyways, add shine and fragrance. 
On Body: Apply to dry or slightly damp skin to hydrate and soften. Or add to your skin's pulse points for a body fragrance.