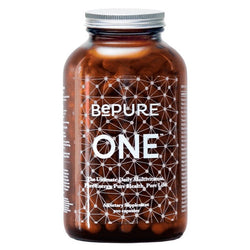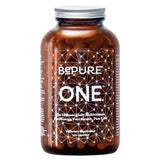 BePure One Multivitamin (300 Capsules, 60-Day Supply)
We accept:  
DESCRIPTION
BePure One is an all-in-one multivitamin packed with over 50 high-quality ingredients in a highly bioavailable form.
The best way to think of BePure One is like a whole food that's been concentrated into a powder form, packed into an easy-to-swallow capsule and designed to be taken daily, alongside your wholesome, healthy meals to fill in the nutritional gaps for optimal health.
It is designed based on deficiency data, to support nutrient status and what nutrients are missing in our diet and soil.
Alongside these vitamins and minerals, BePure One provides a full dose of organic greens, and a special selection of other greens, including broccoli sprout and green tea extract to provide antioxidant support and overall liver support. 
Support For: Energy and vitality, Immunity, Mental clarity, Nervous system balance, Hair, skin and nail health, Sleep, Powerful antioxidants, Pregnancy and breastfeeding.
BePure One is batch tested to be BSCG certified to ensure both the quality and safety of our ingredients with independent testing. 
Why Lissom loves it: BePure One is one of the better multivitamins available on the market for men and women and is part of the baseline nutritional support BePure Founder Ben Warren and the team at BePure recommends everyone takes everyday, on top of a healthy diet, to support their health. 


DIRECTIONS
Recommended daily dose: Take 5 capsules daily: 3 at breakfast and 2 at lunch.
Some people like to take all 5 in the morning with breakfast and that's fine too, your BePure nutritional support should fit into your daily routine. 
To ensure maximum absorption, we do recommend that you avoid taking BePure One on an empty stomach or with drinks such as coffee, tea or alcohol.
Precautions:
Not recommended for anyone with an overactive thyroid, on Carbimazole, Warfarin or other blood thinners or undergoing cancer treatment. 
If surgery is anticipated, it is advised to consult a healthcare professional before using this product.
Always take BePure One with food. Taking on an empty stomach can result in nausea, which can be relieved by eating.
Always read the label and take as directed. Vitamins are supplementary to a balanced diet. BePure Health Ltd, Auckland.
TAPS number: PP6677