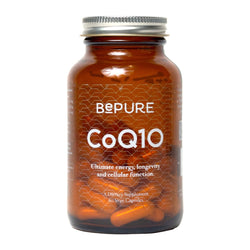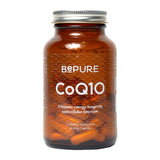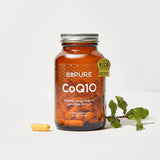 BePure CoQ10 (60 Capsules, 60-Day Supply)
We accept:  
DESCRIPTION
BePure CoQ10 provides the optimal daily dose of naturally fermented coenzyme Q10 and is suitable for anyone looking to pump up their nutrients essential to energy production and healthy age-ing.
There is a large quantity of research that backs CoQ10's ability to support energy production, heart health, cellular function, ageing, skin and more. An important fat-soluble antioxidant, CoQ10 helps to reduce free radical damage and inhibit the oxidation of cholesterol.
BePure CoQ10 is made from a natural and fermented form of coenzyme Q10 for optimal absorption and use within the body. BePure CoQ10 is batch tested to be BSCG Certified Drug-Free to en-sure both the quality and safety of our ingredients with independent testing.
Support for: Sports and athletic performance, Heart health, Energy, Oxidative stress, Skin health, Brain health, Healthy ageing

INGREDIENTS
Amount per serving (1 Capsule):
CoQ10 Ubiquinone (naturally fermented from Japan) 200mg
Magnesium Phosphate 200mg
Potassium Phosphate 100 mg
Additional ingredients: Hydroxypropyl Methylcellulose (capsule), Microcrystalline Cellulose, Magnesium Stearate, Silicon Dioxide.

DIRECTIONS
Take 1 capsule daily with or without food.
To ensure maximum absorption, take on an empty stomach and away from drinks such as coffee, tea or alcohol. Athletes and those training or exercising prefer to take it prior to a workout.
Precautions: Not to be taken with Warfarin or any other blood thinning medication.
CoQ10 should be avoided with antihypertensive medication and chemotherapy.
Always read the label and take as directed. Vitamins are supplementary to a balanced diet.
BePure Health Ltd, Auckland.
TAPS number: PP7852