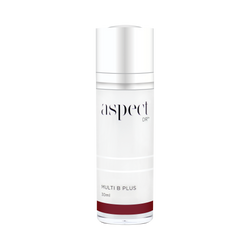 Aspect Dr Multi B Plus 30ml
We accept:  
DESCRIPTION:
A vitamin B powerhouse essential serum formulated with Niacinamide, a potent Vitamin B complex and a blend of sea plant extracts. 
FORMULATED WITH:
• Niacinamide | Vitamin B3 to help fortify overall skin appearance, improve the look of discolouration, alleviate redness, balance oils and maintain hydration.
•  Tocopherol Acetate | A powerful antioxidant that fights free radical damage and hydrates the skin.
• Homeo-Shield™ (Fucus Serratus Extract) | Derived from brown algae found in the Atlantic Ocean, supports the skin barrier function for optimal protection against environmental influences and prevention of transepidermal water loss.
• Vitamin B Complex | A polypeptide blend of B vitamins that combines Niacinamide, Panthenol and Folic Acid.
• Homeo-Soothe™(Ascophyllum Nodosum Extract) | Extracted from a brown seaweed, known for its calming and soothing properties.
• Canadian Willowherb™ Extract | A botanical antioxidant that soothes and comforts the skin, whilst fighting free radical damage to combat the visible signs of ageing.
• Aspect™ Signature Blend | Certified organic superfood complex of Australian botanicals with powerful antioxidant properties.
BENEFITS:
•  Helps to clarify and fortify overall appearance of skin
•  Reduces breakouts
•  Balances oil levels
•  Alleviates redness
•  Boosts hydration
DIRECTIONS:
Application morning & night: Dispense 1 pump and apply to skin after cleansing. May be cocktailed with other Aspect Dr serums to turbo-charge any skincare regime. 
YOUR GO TO SKINCARE PRODUCT FOR:
•  All skin types 
•  Combination, oily skin
•  Those looking for a vegan friendly vitamin B serum
MADE WITHOUT: Synthetic Fragrance, Animal products, SLS, Parabens
Caution: 
May contain gluten

Not recommended for those with seafood allergies