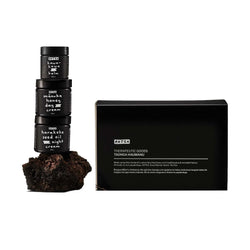 Aotea Therapeutic Pack (Manuka Day Cream, Harakeke Seed Night Cream, Kawakawa Balm)
We accept:  
DESCRIPTION
The Aotea Therapeutic Pack Contains:
1 x Harakeke Seed Oil Night Cream
The key tenant in our restorative night cream is the harakeke seed (flaxseed). Harakeke seeds are rich in Omega's 3 and 6 which make it super nourishing for the skin. Omega 3 in particular plays a crucial role in cell rejuvenation and restoration. All of the ingredients in this night cream are 100% natural to the point that it is actually edible. Our theory is, why would you put something on your body that you would never dream of eating when it's all going to be absorbed into the blood stream. Apply this cream every night and wake up to skin that feels and looks hydrated.
1 x Mānuka Honey Day Cream
A lightweight day cream formulated to nourish sensitive skin, soothe irritations, and blemishes, while increasing skin hydration. What we put on our skin is ultimately absorbed into our body; which is why our Mānuka Honey Day Cream contains only the most natural and simple restorative ingredients. Mānuka Honey has a high moisture content, which can naturally draw moisture to the skin, and will leave your skin feeling hydrated for longer. This day cream also contains kawakawa infused sweet almond oil due to it's strong anti-inflammatory properties, ideal for reducing redness and blemishes.
1 x Kawakawa Balm
Our multi-purpose soothing balm is based on the traditional use of Kawakawa for irritations, abrasions and pains. Kawakawa leaves have a super high anti-inflammatory, anti-bacterial and analgesic content making their extracts incredibly beneficial for relieving skin issues. With sweet almond and mānuka oil, and beeswax from our own hives, our Kawakawa Balm is the natural and native skincare remedy perfect for dry lips, skin irritations (like eczema), as well as bites, sores and nappy rash.
Handmade in small batches on Aotea. Products may vary slightly from batch to batch.