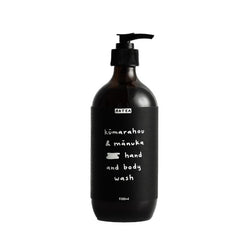 Aotea Kūmarahou & Mānuka Hand & Body Wash 500ml
We accept:  
DESCRIPTION
A gentle wash containing Kūmarahou and Mānuka formulated to effectively clean without stripping the skin. Kūmarahou has a very high saponin content, which works as a surfactant and lowers the surface tension between the grime on your skin and the water you're washing it off with, making the grime come off easily. Most conventional soaps and washes use chemicals to do this. 
Kūmarahou was traditionally referred to as 'gum diggers soap', as the gum diggers of the 1800s would use Kūmarahou and water to remove kauri gum or tree sap from their hands when they were working.
Aotea has also included Mānuka Oil in our formulation as it is a powerful natural disinfectant. This hand and body wash is beautifully gentle, very healing, and 100% natural.
Handmade in small batches on Aotea. Product may vary slightly from batch to batch.


DIRECTIONS
Dispense 1 pump of soap on your hands, lather and rinse thoroughly. If using it as a body wash, dispense 2 pumps and massage onto the skin from neck down then rinse thoroughly.