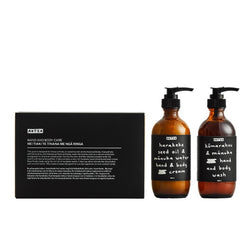 Aotea Hand & Body Care Pack (Kūmarahou & Mānuka Hand & Body Wash, Harakeke Seed Oil & Mānuka Hand & Body Cream)
We accept:  
DESCRIPTION
The Aotea Hand & Body Care Pack contains:
1 x Kūmarahou and Mānuka Hand & Body Wash 
A gentle wash containing Kūmarahou and Mānuka honey to effectively cleanse without stripping the skin. Kūmarahou, Pomaderris Kūmarahou, has a very high saponin content, which works as a surfactant and naturally can foam into a lather. Most conventional soaps and washes use chemicals to create foam. Kūmarahou was traditionally referred to as 'gum diggers soap', as the gum diggers in the 1800s would use kūmarahou and water to remove kauri gum and tree sap from their hands when they were working. We have included Manuka Oil to our formulation, acting as a powerful natural disinfectant. This Hand and Body wash is beautifully gentle, very healing and 100% natural.
1 x Harakeke Seed Oil and Mānuka Water Hand & Body Cream 
A rich and nourishing hand and body cream designed to soothe the skin and reduce inflammation. The hero ingredient is Harakeke Seed Oil, which is rich in omegas 3, 6 and 9 and also has high linoleic content, an amino acid that is incredibly nourishing for the skin. Formulated with Mānuka water, this hand and body lotion also balances the PH levels in the skin, closes the pores, and gently kills bacteria. 
Handmade in small batches on Aotea. Products may vary slightly from batch to batch.
Kūmarahou and Mānuka Hand & Body Wash:
Gentle and soft hand and body wash
Suitable for all skin types including sensitive skin types
Naturally cleanses without stripping the skin of its natural oils
Fresh mānuka scent
Harakeke Seed Oil and Mānuka Water Hand & Body Cream:
A rich and nourishing hand and body cream
Designed to moisturise the skin while reducing inflammation and balancing PH levels
Suitable for sensitive / dry / normal skin types