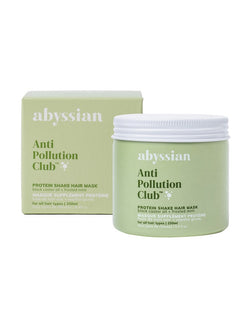 Abyssian Protein Shake Hair Mask 250ml
We accept:  
DESCRIPTION
A silicone-free "city-proof" hair mask, like a true protein shake to replenish your hair's strength, protect it against urban aggressors and provide all-round conditioning, from the base of the cuticles right through to the hair shaft. 
Just like supplementing your body with nutritious food comes naturally, the same attention should also goes to your hair. Especially as life in the city brings its fair share of daily aggressors that can seriously damage your hair. The abyssian Protein Shake Hair Mask is the health boost your mane needs, a true hair supplement with plant protein extracts and anti-pollution active ingredients to supplement your hair's natural strength and defences.
2.2x Stronger hair with Vegan Keratin
Castor oil for long lasting shine
Niacinamide rebuilds Keratin proteins and reduces scalp inflammation
Pollution-proof hair with patented botanical ingredient Citystem
96% natural / plant-based ingredients