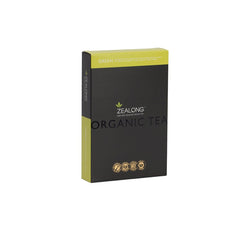 Zealong Green Tea - Loose Leaf 50g
We accept:  
DESCRIPTION
Zealong's organic green tea is a smooth, silky liquor, with a rich taste of floral notes, toasted chestnuts and a subtle sweet finish.
Zealong teas are hand-picked by only the top three leaves, are certified organic, and grown in the Waikato region in the North Island of New Zealand. Known for its unique climate and growing conditions, these teas are truly special and has won many international awards.
Loose leaf, 50g pack.
Tea notes:
| | |
| --- | --- |
| Dry leaf | Slightly twisted green leaves with silver hues |
| Liquor | Pale, silvery green with a slight moonlight haze |
| Aroma | Hints of Autumn and toasted chestnuts |
| Texture | Silky smooth with a velvety touch on the tongue |
| Taste | Fresh, yet round and fulfilling |
INGREDIENTS
100% New Zealand-grown tea.
Certified by BioGro Non-GMO (New Zealand), BioGro Organic, USDA Organic, EU Organic and FIANZ Halal.
Grown and made in New Zealand. NZ Fernmark certified.
DIRECTIONS
Use just-off-the-boil water. Let the blend brew for three minutes. Do not add milk. 
Store in a cool, dry place away from direct sunlight.