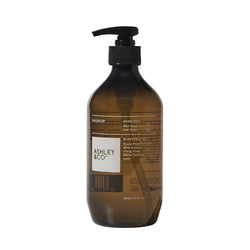 Ashley & Co Washup - Blossom & Gilt 500ml
We accept:  
DESCRIPTION 
Aromatic botanical hand wash for use anytime and everyday. Bolstered with aloe, horopito and grapefruit seed, this is your habitual helper to nourish and cleanse hands, with the pick-me-up of an invigorating and balancing scent.

500ml, PH balanced and soap free
Scent Profile
The elegant yet indolic depth of Jasmine, Ylang Ylang and Plump Tuberose, complement Lime and Bergamot top notes creating a warm and enthusiastic floral fusion.
Costa Rican Tuberose
Wild Jasmine
Ylang Ylang
White Tobacco
Kaffir Lime
Give fresh flowers: Costa Rican Tuberose and Wild Jasmine create the ultimate bouquet, lasting longer than its fresh petalled contemporaries.
Made in New Zealand