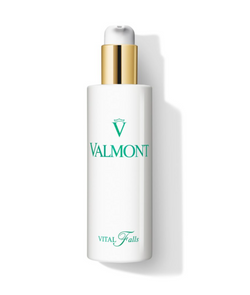 Valmont Purity Vital Falls Toner 150ml
We accept:  
Part of Valmont's Purity collection that uses Swiss spring water, Vital Falls is an invigorating toner that leaves skin feeling revitalised and soothed.  This invigorating toner boasts micro-exfoliating properties and a softening effect, helping to revitalise skin and encourage a fresh, clean complexion.
Removes residue left behind from previous products.
It balances the skin surface's ph.
It tones and softens the skin.
Revitalized skin that shows off a fresh and dewy complexion. 
150ml
Key Ingredients:
Witch hazel extract: tightens tissue, tones and protects from free radicals.
Chamomile extract: soothes and decongests.
Calendula extract: softens and soothes inflammation.
Directions:
Apply product to a cotton pad and wipe the face or apply directly with hands.
Avoid the eyes.
Suitable for all skin types, even the most fragile.