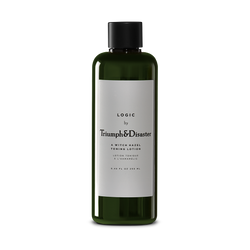 Triumph & Disaster Logic Toner 250ml
We accept:  
DESCRIPTION
A Witch Hazel Toning Lotion by Triumph & Disaster. This natural, alcohol-free toner is your ticket to the show. As the name suggests, 'Logic' is all about simplicity, accuracy and clarity, values espoused in the pursuit of an honest, natural, effective solution to toning and treating skin.
By cleaning out the last remnants of each day's (or last night's) oily residue and unwanted build up, 'Logic' works hard to clear pores and leave skin clean and taut. Engineered with a bespoke blend of proven actives this natural formulation balances, clears and tones without stripping or dehydrating sensitive skin, providing a much-needed ceremony to a daily routine.
250ml Bottle
Things You Need To Know:
1/ Water based and Alcohol Free (No Denatured Alcohol) – this means it is gentle on your skin and will not strip or dehydrate sensitive skin.
2/ An Everyday Balancing/Cleansing/Hydrating Toner – meaning 'Logic' works to balance, regulate and even out skin tone and appearance with a bespoke combination of known natural cleansing and toning agents.
3/ Natural acne treatment ingredients – well known natural alternatives to chemical washes Witch Hazel, and Tasmanian Pepper work topically on the skins surface to treat and protect against acne.
4/ Reduces pores creating a smooth appearance – with regular, daily use by cleaning out excess oil and unwanted build up 'Logic' will work to reduce pore size creating a smooth even skin tone.
5/ Soothes and treats the skin – this formulation has been developed with proven natural ingredients such as Mamaku extract and Tasmanian Pepper for their natural soothing and calming qualities that leave skin feeling toned and calm.
KEY INGREDIENTS
Tasmanian Pepper Fruit Extract (Tasmannia Lanceolata) — Bringing great calming and soothing benefits to all it touches Tasmanian Pepper is the perfect support player to all the other ingredients in the team. Sourced from Tasmania it was traditionally used by native Aborigines to treat external infections and inflammation when applied topically, we believe it's the perfect player to soothe and calm irritable skin.
Alpine Willow Herb Extract (Epilobium Fleischeri) — We use Willow Herb because it is clinically proven to shrink and reduce pore size, whilst balancing sebum production. It's derived from Epilobium fleischeri, a rare alpine plant that's has been proven through clinical studies to have outstanding properties for sebum production and pore size reduction – all benefits that lead to a visibly improved skin appearance. A little science goes a long way but it's the Oenothein B and flavonoids that are the key compounds in sebum-regulating and anti-inflammatory activities, results of which have shown reduction of up to 56% - yeehah.
Witch Hazel Extract (Hamamelis Virginiana) — A well-known natural anti acne agent, it's no secret that Witch Hazel has been used throughout the centuries to treat problem skin. But with its Antioxidant, Natural Astringent, and Anti inflammatory properties what is less known is that there may be no plant on the planet that is more beneficial to improving your skin tone. Modern research continues to uncover its medicinal benefits which are as wide ranging as reducing inflammation, reducing cellular damage and swelling, preventing signs of aging, while also soothing wounds. 
ALL INGREDIENTS
Aqua (Water), Hamamelis Virginiana (Witch Hazel) Extract, Lavandula Angustifolia (Lavender), Caprylyl/Capryl Glucoside, Gluconolactone, Sodium Benzoate, Cyathea Medullaris (Mamaku) Extract,Benzyl Alcohol, Salicylic Acid, Glycerine, Sorbic Acid, Cyathea Cumingii (Fern) Leaf Extract, Tasmannia Lanceolata Fruit Extract, Avena Sativa (Oat) Kernel Extract, Epilobium Fleischeri (Alpine Willowherb) Extract, Chamomilla Recutita (Chamomile) Extract.