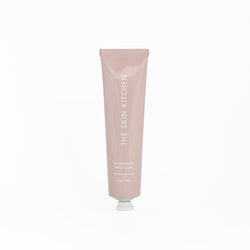 The Skin Kitchen Watermelon Face Mask 65ml
We accept:  
DESCRIPTION
This skin-plumping, deliciously-scented mask is rich in hyaluronic acid for enhanced skin hydration and antioxidants that protect against free radicals and repair damaged cells. Formulated with pink clay to cleanse skin whilst purifying and tightening pores. Suitable for all skin types.
Size: 65ml
KEY INGREDIENTS
Organic calendula oil, shea butter and watermon extract to soothe
Hyaluronic acid to plumpen skin
Kaolin clay and pink clay to draw out impurities
DIRECTIONS
Apply a thin layer over clean skin, leave on for 15-20 minutes. Rinse with water. Use 2-3 times per week. Avoid contact with eye area. Store in a cool, dark place out of direct sunlight. 
Cruelty free, vegan and natural. Made in New Zealand.
INGREDIENTS
Cetearyl Glucoside, Sorbitan Olivate, NZ Pure Water, Calendula Oil*, Kaolin, Castor Oil*, Watermelon Water, Watermelon Extract, Vegetable Glycerin*, Pink Clay, Cetostearyl Alcohol, Shea Butter*, Stearic Acid, Glyceryl Monostearate, Sodium Hyaluronate, Dehydroacetic Acid, Benzyl Alcohol, Vitamin E, Xanthan Gum, Potassium Sorbate, Citric Acid, Fragrance
*Organic
ABOUT THE BRAND
The Skin Kitchen started off by hand-making products and selling them at the local market. Today, the New Zealand natural skincare brand has a range of face and body oils, creams and masks. Established in 2015. All products are cruelty-free, vegan and natural.