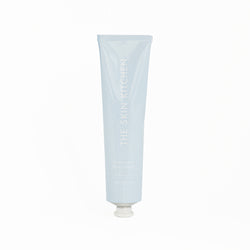 The Skin Kitchen Hydrating Body Lotion 150ml
We accept:  
DESCRIPTION
This lightweight body lotion is formulated with nourishing oils and essential fatty acids to keep your skin hydrated for longer. Packed with antioxidants that increase circulation and promote collagen production to reduce the appearance of stretch marks, cellulite and scarring, and resulting in smooth, luminous skin.
Fragrance free and suitable for all skin types.
Size: 150ml
KEY INGREDIENTS
Aloe vera and white tea extract to refresh and soothe.
Jojoba, coconut, avocado and calendula oils to nourish.
Antioxidant-rich Vitamin E and pineapple extract.
Coffee Arabica seed extract to boost blood circulation.
DIRECTIONS
Massage all over body in circular motions. For best results, use daily. Store in a cool, dark place out of direct sunlight.
Store in a cool, dark place out of direct sunlight.
Cruelty free, vegan and natural. Made in New Zealand.
INGREDIENTS
NZ Pure Water, Aloe Vera Juice, Glycerin Cetearyl Olivate, Shea Butter, Sorbitan Olivate, Ceto Stearyl Alcohol, Clyceryl Monosterate, Grapeseed Oil, Fractionated Coconut Oil, White Tea Extract, Coffee Arabica Seed Extract, Pineapple Extract, Dehydroacetic Acid, Benzyl Alcohol, Jojoba Oil*, Coconut Oil*, Avocado Oil*, Calendula Oil, Carbomer, Vitamin E
*Organic
ABOUT THE BRAND
The Skin Kitchen started off by hand-making products and selling them at the local market. Today, the New Zealand natural skincare brand has a range of face and body oils, creams and masks. Established in 2015. All products are cruelty-free, vegan and natural.