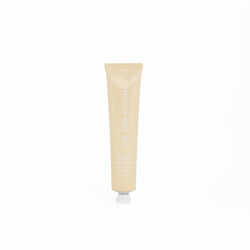 The Skin Kitchen Coconut Vanilla Lip Scrub 20ml
We accept:  
DESCRIPTION
This vegan lip scrub gently exfoliates using Rosehip Seed exfoliant. Infused with nourishing Shea Butter and Vitamin E, helping to soften and hydrate the lips. 
Size: 20ml
KEY INGREDIENTS
Rosehip seed to exfoliate.
Shea butter and Vitamin E to nourish and soften.
Macadamia, sweet almond and coconut oils to hydrate.
DIRECTIONS
Gently massage a small amount into lips with upward circular motions. Wipe excess away.
Store in a cool, dark place out of direct sunlight.
Cruelty free, vegan and natural. Made in New Zealand.
INGREDIENTS
NZ pure water, Coconut oil*, Rosehip seed exfoliant, Sweet almond oil*, Castor oil, Shea Butter*, Olive oil, Vegetable Glycerin, Cetearyl Glucoside, Sorbitan olivate, Cetostearyl alcohol, Cetyl alcohol, Glyceryl monostearate, Cocoa butter, Macadamia oil, Grape skin powder, Dehydroacetic acid, Benzyl alcohol, Vitamin E, coconut flavour oil*, Vanilla fragrance, Xanthan gum.
ABOUT THE BRAND
The Skin Kitchen started off by hand-making products and selling them at the local market. Today, the New Zealand natural skincare brand has a range of face and body oils, creams and masks. Established in 2015. All products are cruelty-free, vegan and natural.