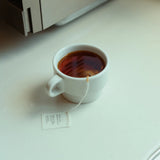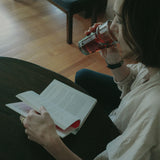 Storm + India English Breakfast Tea (21x 3g Teabags)
We accept:  
DESCRIPTION
Rich in antioxidants and inflammation-reducing properties, this classic breakfast blend is the perfect way to start the day!
The black tea used in our English Breakfast comes from certified organic tea gardens in Assam, India. The Jamguri Tea Estate in the Golaghat district is renowned for tea of the highest quality. The bushes there produce teas with superior flavour and bright liquors. Expert harvesters with nimble hands pick the finest leaves, which are carefully crafted to create the legendary flavour of Assam teas. The robust flavour of our English Breakfast comes from the perfect blend of two full-bodied teas from the Jamguri Tea Estate.
Black tea is rich in polyphenols (a type of antioxidant) which support the reduction of inflammation. Black teas pair perfectly with a little milk and sugar. Make your morning a delicious one.
All Storm + India teabags have been mindfully designed to look after both our bodies and the planet. Our teabags are hand-stitched cotton, allowing our pure organic tea to develop its full aromatic flavour, and making them home compostable (please remove the tea tag first). Teabag envelopes are made from biodegradable plant-based material. Tea boxes are locally made in Northern Tasmania on FSC certified recycle board and printed with plant-based inks.
Home compostable | Plastic free

Certifications: BioGro New Zealand, Certified Organic, FairTrade, Vegan, Plant-based

INGREDIENTS
100% Assam whole leaf (Certified Organic)
Contains Caffeine

DIRECTIONS
Enjoy this energising wellness drink as a traditional hot tea or refreshing iced tea. Each teabag can be infused twice.
Hot Tea: Infuse teabag in freshly boiled 100°C water for 3-5 minutes. Add a little milk and sugar or fresh lemon slices.
Iced Tea: Infuse teabag in filtered cold water for 30 minutes, add ice and fresh lemon or apple slices if you wish.
Enjoy with: Poached organic eggs, avocado on grain toast, banana date loaf, cacao smoothie.