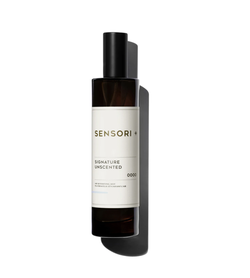 Sensori+ Air Detoxifying Mist Signature Unscented 30ml
We accept:  
DESCRIPTION
Epitomising the SENSORI+ ambition, our Signature Unscented 0000 Air Detoxifying Mist was engineered as the definitive clean air solution. It has the highest concentration of our cutting-edge ChlorosPURE® formula that decomposes harmful airborne toxins and neutralises odour, rather than simply masking the scent.
Designed for delivering the ultimate freshness, this mist not only leaves your space odourless but acts to remedy the air itself, helping you to feel better and ultimately improve your wellbeing.
It's infant and pet-friendly and is ideal for those with sensitive senses and skin.
Effective on 100+ airborne toxins
96%+ average removal ratio
99.15% of bacteria inhibition
Ultra-safe & pH neutral
DIRECTIONS
Spray 4-6 pumps evenly in the immediate space where refreshing is needed. To use as a personal refreshing spray or post-renovation detoxification treatment, please refer to booklet inside box packaging.
INGREDIENTS
Distilled Water (Aqua), ChlorosPURE®