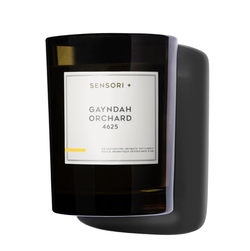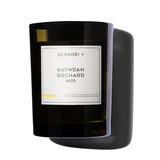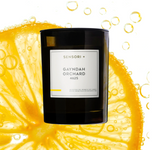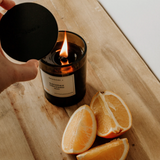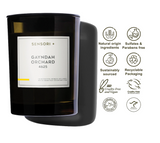 Sensori+ Air Detoxifying Aromatic Soy Candle Gayndah Orchard 260g
We accept:  
DESCRIPTION
Bring the delightful memory of a lazy Sunday out in a citrus orchard at Gayndah indoors. Recreated with an exquisite blend of hand cold-pressed bergamot oil, precious neroli and lingering cedarwood notes makes this candle the perfect indoor air cleanser.
All-natural and plant-derived, SENSORI+ Air Detoxifying Aromatic Soy Candle contains ChlorosPURE®, an exclusive green technology developed in Australia that provides a gentle healing solution to our living environment. This new generation fragrance candle is designed to eliminate malodours on a molecular level, leaving your space with a curated Australian fresh air experience.
Effective on 100+ airborne toxins
87%+ average removal ratio
Third-party lab test results
Comparing to conventional fragrance candles releasing pungent hazardous synthetic fragrances into space, SENSORI+ Air Detoxifying Aromatic Soy Candle continues to refresh the space with soft and gentle all-natural fragrances.
DIRECTIONS
Trim candle wick to 5mm before each burn. Centre the wick after each burn before the wax has solidified. The candle should not burn for more than four hours at a time. Place the candle on a heat resistant surface and draft-free area. Glass may become hot during use. Allow candle to re-solidify and completely cool before moving. Keep candle away from children. Never leave a burning candle unattended.
INGREDIENTS
Natural Soy Wax Blend, ChlorosPURE®, Natural Essential Oil Blend [Bergamot, Cedarwood, Neroli]

This ingredient list is subject to change, customers should refer to the product packaging for the most up-to-date ingredient list.
Made in Australia