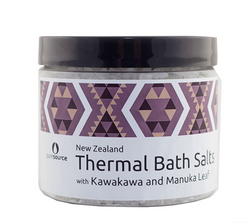 Pure Source Thermal Bath Salts with Kawakawa and Manuka Leaf 500g
We accept:  
DESCRIPTION
A blend of invigorating bath salts, in stunning packaging designed by Adrienne Whitewood.  She has used 'Aonui' which is a pattern that represents the pursuit of knowledge about the natural world – which we love!!
These skin soothing bath salts are based on the mineral content of Rotorua's natural thermal pools and are blended with locally harvested Kawakawa (Maori Bush Basil).  Kawakawa is known to be antimicrobial and used in Rongoa – traditional Maori herbal medicine for treating infection and various skin conditions. Relax in a bath and take some time to absorb all of the wonderful properties these salts offer.
Skin type(s): Suitable for all skin types.
500g
ABOUT ROTORUA THERMAL MUD BY PURE SOURCE
Mud baths and therapies have been popular for thousands of years. It is believed that mud has anti-inflammatory properties, so soaking in mud with its amazing minerals can help to relieve aches and muscle pains, as well as providing deep cleansing benefits.
Pure Source sources Rotorua Thermal Mud directly from the local, natural, thermal environment. Surrounded by numerous hot thermal springs, thermal geysers and boiling mud, the healing wonders of Rotorua Thermal Mud are numerous and world renowned. It is a unique product as it is only present in a small part of the world where the thermal activity connects with the surrounding native environment, and it differs from other mud products due to its very high mineral content, giving it superb cleansing qualities. Trace elements including Sulphur, Calcium, Sodium and Silicon combine with Manuka plants surrounding the mud pools add to the fineness and highly anti-sceptic properties, giving it superb cleansing and exfoliating qualities.
DIRECTIONS
Sprinkle one tablespoon into your bathtub filled with warm water and soak. For beautiful, soft skin, dry off and moisturise.

INGREDIENTS
Our thermal salts are blended with specially selected elements of Rotorua's natural environment:
Kawakawa: A natural anti-oxidant, invigorating and refreshing

Rotorua Mud: Detoxifies and draws impurities from the skin

Lavender: Indulgent, calming and relaxing

Horopito: A natural anti-oxidant, anti-fungal and anti-septic

Manuka Leaf: Helps relieve cold and flu symptoms, soothing and relaxing

Pohutukawa: Very aromatic and relaxing