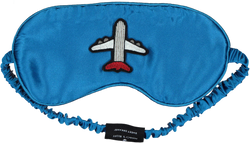 Pedro's Bluff Mulberry Sleep Mask - Fly Away (Blue)
We accept:  
DESCRIPTION
The Pedro's Bluff silk sleep mask is the perfect ingredient for a good night's rest. Crafted from 100% high-grade mulberry silk with pure silk filler and a silk-covered elastic band, this mask with an airplane motif protects the delicate skin around the eyes from fine lines, and is as ideal for the bedroom as it is for a long-haul flight. 
PEDRO'S BLUFF
Creativity, modern craftsmanship and bespoke design sit at the heart of everything Pedro's Bluff does. Based in Auckland, New Zealand, the brand is focused on simple, practical details, showcasing the premium leather and workmanship that go into producing the range.
PRODUCT DETAILS
- Materials: 100% top-grade mulberry silk eye mask with silk-covered elastic strap and Indian Silk embroidered airplane detail. One size fits all. Allergen-free and safe for sensitive skin.
- Features: Comes with a compact travel pouch. 
- Dimensions: W 20 x L 9 cm | W 7.75 x L 3.5 inches