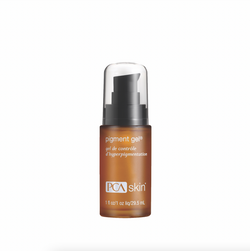 PCA Skin Pigment Gel® Pro
We accept:  
DESCRIPTION
Experience a visibly dramatic reduction in the appearance of stubborn hyperpigmentation for all Fitzpatricks and skin types. This advanced, dermatologically tested corrective helps fade the size and intensity of dark spots while helping protect against the appearance of new dark spots.
Suitable for dry, oily, normal and sensitive skin types experiencing stubborn hyperpigmentation.


KEY INGREDIENTS
Hexylresorcinol

- tyrosinase and peroxidase inhibition; reduced transfer of melanosomes from the melanocytes to the keratinocytes.

Purified Licorice Root Extract

- inhibiting hyperpigmentation and inflammation to decrease tyrosinase expression and melanosome transfer.

Tranexamic Acid

- a synthetic derivative of the amino acid lysine that helps inhibit melanin synthesis through plasminogen/plasmin pathways.

4-Butylresorcinol

- a potent inhibitor of tyrosinase and peroxidase that leads to a reduction in melanin production.

DIRECTIONS
After cleansing and toning, smooth onto the face, neck, and décolleté or affected areas. Use twice daily for maximum benefits. Follow with the appropriate treatment serums, and broad spectrum SPF product in the daytime and moisturiser in the evening.