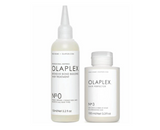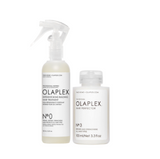 Olaplex Intensive Hair Treatment Kit No.0 + No.3
We accept:  
DESCRIPTION
Buy the No.0 Bond building treatment and the No.3 Hair Perfector together for ultimate repairing ability. These products are formulated to work best in a pair to deliver a salon-quality hair-bonding repair and finish.
Scientifically proven to deliver 68% more repair & 3x stronger hair when used as a two-part system in a single use.
Kit includes:
NO 0 INTENSE BOND BUILDER #0 (may receive original nozzle only due to limited stock availability of spray head)
An at-home Intensive Bond Building Hair Treatment to be used before the Olaplex No.3 Hair Perfector providing a more intense repair than using No.3 alone.  It works to prime your hair for a deeper repair - whilst strengthening and rebuilding hair bonds. 
NO 3 HAIR PERFECTOR #3
Builds and repairs broken hair bonds while increasing elasticity and restores hair to its natural texture and state. It is a concentrated hair treatment which will do all this as well as increase your hairs natural shine! With bond-building technology, your heat damaged bonds will re link and restore your healthy hair. Olaplex #3 is made for all hair types and will repair from within. 
DIRECTIONS
Fully wash your hair, and apply no. 0 to the full length of wet hair in sections. Process for 10 minutes and then, without rinsing, apply No. 3 Hair Perfector over the No. 0 applied.  Let process for minimum 10 minutes to repair and strengthen damaged hair of any hair type.