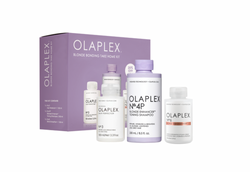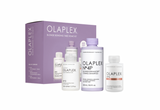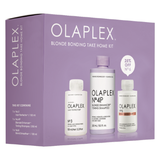 Olaplex Blonde Bonding Take Home Kit (No. 3 + No. 4P + No. 6)
We accept:  
DESCRIPTION
Experience the complete Olaplex routine for blonde hair. Providing real, structural repair that works from within. This ritual will maintain strength, structure, integrity, softness and shine.
Olaplex No. 4P Blonde Enhancer Toning Shampoo offers stronger, softer, and brighter blonde hair with every wash. 
Benefits all hair types especially Dry and damaged. Vegan, Sulphate-free, Cruelty free.
Strengthens and repairs hair structure
Restores health and texture
Maintain strength, integrity and reduces breakage
Link bonds within the hair, in between salon services
Eliminates frizz and flyaways
Reduces breakage
Kit contains:
Olaplex No. 3 (The Best Selling Treatment in New Zealand!)
Olaplex No. 3 - Protector - builds and repairs broken hair bonds while increasing elasticity and restores hair to its natural texture and state. It is a concentrated hair treatment which will do all this as well as increase your hairs natural shine! With bond-building technology, your heat damaged bonds will re link and restore your healthy hair. Olaplex #3 is made for all hair types and will repair from within. 
Olaplex No.4P (Purple Shampoo)
Highly concentrated purple shampoo cleanses, tones, and repairs while keeping hair hydrated from roots to ends. Sulfate-free formula creates a rich lather to neutralize brassiness and boost brightness after one use for all blonde, lightened, and grey hair.
Olaplex No. 6 (Bond Smoother)
Olaplex is a Bond Smoother.  Its a leave in Styling Creme that helps eliminate frizz, hydrates and protects the hair.  Olaplex #6 has quickly become the second fastest selling product in the Olaplex range - behind the No. 3 Perfector!