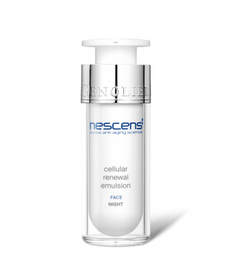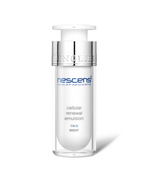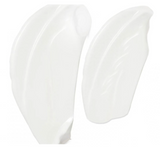 Nescens Cellular Renewal Emulsion - Night 30ml
We accept:  
Description
Nescens Celluar Renewal Emulsion contains highly concentrated active ingredients that encourage the desquamation and regeneration of epidermal cells and prevent their senescence. The Nescens anti-aging technolology delivers powerful anti-slackening action.
Cosmeceutical benefits
Induces a powerful cell division signal to accelerate the restoration of the skin covering
Activates the synthesis of structural proteins, helping rebuild the skin's support system
Reinforces the activity of natural moisturizing factors
Diminishes the appearance of pigmentary imperfections.
Key Ingredients
Retinyl palmitate: Speeds up the regeneration of epidermal cells and normalizes their differentiation process.
Lactobionic acid: Boosts the renewal of keratinocytes and ensures the cohesion of the epidermal layer. Provides a highly effective, yet gentle exfoliation. Retains water molecules in the stratum corneum of the skin.
L-fucose: Improves skin elasticity and promotes the synthesis of collagen and elastin fibers.
Niacinamide: Exerts a stabilizing effect on the epidermal cells. Maintains skin hydration by balancing epidermal lipids in the stratum corneum. Increases the vascularization of dermal papillae.
Ascorbyl tetra-isopalmitate: Stimulates collagen production.
Phytic acid: Prevents cutaneous dystrophy due to aging and ensures the ideal moisture level.
Directions



Use the cellular renewal emulsion every night, after priming cares and the appropriate Nescens serum.This formulation is especially effective when used in conjunction with the molecular regeneration emulsion (day correcting care).
Best suited for Wrinkles, loss of firmness, skin-slackening, global skin-aging.