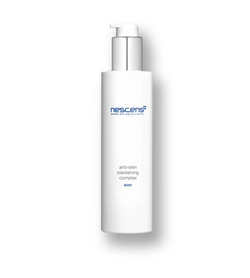 Nescens Anti-Skin Slackening Complex - Body
We accept:  
Description
The ultimate anti-aging body treatment. Nescens has developed an overall rejuvenation complex for skin structures to prevent and offset the slackening of tissues and improve their elasticity. The anti-skin slackening complex contains a concentration of sophisticated active ingredients, optimally closed, in order to:
• restore the physiological tension of tissues and improve their tone
• boost the regeneration mechanisms of extracellular matrix components – collagen, elastin, glycosaminoglycans – crucially important to ensure a firm and elastic skin
• regulate the natural exfoliation process and remove epidermal roughness
• restore water supplies and lipids in the stratum corneum, essential for the preservation of a soft and comfortable skin
• prevent and correct pigmentation problems related to chronological and photo-induced aging for a perfectly even skin
The anti-skin slackening complex combines high cosmeceutical performance with the luxury of a fluid, enveloping galenic formulation. Touch, dispersion and absorption are perfectly designed for quick application, without leaving the skin greasy, so that you can dress immediately. Used twice a day, the anti-skin slackening complex helps restore the ability of skin tissues to rebuild their main youth markers: elasticity, tone, suppleness, comfort and radiance.
Clinically tested under dermatological supervision
Directions
As part of the Nescens cosmeceutical skincare program, apply the anti-skin slackening complex in the morning and in the evening on the whole body surface using upward smoothing motions.
For dry and flakys areas (forearms, thighs, legs…), proceed with the prior application of the PHA resurfacing emulsion. Apply the anti-skin slackening complex on the remaining areas.
Once to twice a week, exfoliate your skin with the sequential peeling to encourage the absorption of corrective products' active ingredients and to maximize results.
Suitable for use by both men and women.
200ml