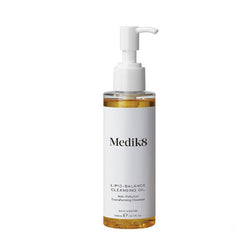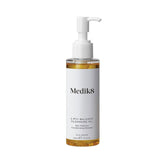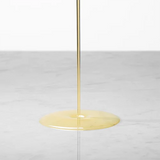 Medik8 Lipid-Balance Cleansing Oil 140ml
We accept:  
DESCRIPTION
Lipid-Balance Cleansing Oil is a silky oil cleanser. With a texture that feels as soft as cashmere, it melts seamlessly into skin, then transforms with water into a milky emulsion that rinses away for a beautifully supple complexion. Safflower oil gently nourishes and smooths as it's massaged into the skin. Vitamin E hydrates and protects to restore vitality and bounce to the complexion. Skin is left cleansed and restored, without feeling tight or dry.
How it works:
The upper layers of the skin are made up of skin cells surrounded by a sea of oil-soluble lipids. Made up of fatty acids, cholesterol and ceramides, these lipids help to keep the skin's essential barrier from letting out water and letting in irritants. Linoleic acid, or omega-6, is an essential fatty acid which cannot be synthesised by the skin, but plays a very important role in maintaining the skin's barrier. Often dry or acne-prone skin types are deficient in linoleic acid levels in the skin. Lipid-Balance Cleansing Oil contains an optimised blend of fatty acids with an excess of linoleic acid to help rebalance the skin for a nourished and healthy-looking complexion. Based on safflower oil, which is made up of more than 70% omega-6, the formula also has a shot of extra linoleic acid to rebalance the skin. Meanwhile, vitamin E neutralises damaging free radicals which can accumulate throughout the day, while moringa oil gently whisks away harmful pollution particles. Oils dissolve in oil, so even stubborn oil-based waterproof make-up doesn't stand a chance against this effortless cleanser.

KEY INGREDIENTS:
Safflower Oil – Cold pressed and made up for more than 70% omega-6, safflower oil is rich in nourishing fatty acids and vitamin E.
Omega-6 – Also known as linoleic acid, an essential fatty acid which your body cannot synthesise on its own.
Omega-6 helps to rebalance the skin's lipid levels to encourage a healthy complexion.
Vitamin E – Essential in our bodies for cell protection, vitamin E is an oil-soluble antioxidant that can protect the lipid parts of the cell from free radical attack.
Moringa Extract – A natural cleanser and next-generation antioxidant, moringa extract draws dirt, impurities and pollution to itself so they can be easily cleansed away.
DIRECTIONS
Gently massage into dry skin. Add warm water to emulsify into a milk and continue to massage. Rinse thoroughly and pat face dry.
An ultra-gentle formula suitable for all skin types, including sensitive
Can be used twice a day
Pump dispenser
Vegan and cruelty-free
140ml