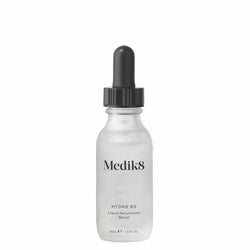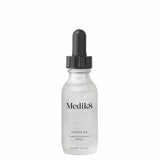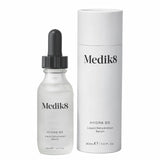 Medik8 Hydr8 B5 Moisturising Serum 30ml
We accept:  
DESCRIPTION
Medik8's bestselling Hydr8 B5 Moisturising Serum contains multi-weight hyaluronic acid and vitamin B5 to hydrate skin from the deeper layers right up to the surface. This crystal-clear serum visibly plumps and softens fine lines and wrinkles to leave skin supple, restored and nourished. Skin is left soft to the touch, intensively hydrated and healthy-looking.
Recommended for dry and dehydrated skin types, but also suitable for all skin types in need of extra hydration.

KEY INGREDIENTS
Multi-Weight Hyaluronic Acid:

Hydr8 B5 contains multiple sizes of hyaluronic acid, to ensure skin is seriously moisturised from the deepest layers right up to the surface. The smaller sizes are able to penetrate deep into the skin and draw hydration up from the lower layers. Larger sizes are too big to get into the skin's network, but sit on top of the complexion acting as a hydration reservoir to continuously feed the upper layers of the skin with water. 

Vitamin B5: Improve skin's water retention and regeneration and supports the regenerative cycle of skin cells.

DIRECTIONS
After cleansing in the morning and evening, massage 6 drops of Hydr8 B5TM across the face, neck and décolletage. Leave to absorb before applying moisturiser. 
Suitable for all skin types including sensitive skin: Oil-free, fragrance-free and non-irritating, this lightweight serum won't clog pores or irritate sensitive skins.