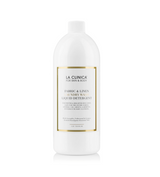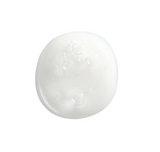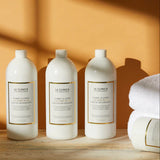 La Clinica Home Fabric & Linen Laundry Wash Liquid Detergent 1L
We accept:  
DESCRIPTION
A gentle, allergen-free and hypoallergenic laundry wash suitable for the entire family, including newborns and suffers from sensitive skin conditions.
Made with powerful plant essential oils of Lavender, Cedarwood and Lemon Scented Eucalyptus specially blended to help with cleaning your laundry items whilst also adding a delightful, subtle fragrance to your wash. Contains approximately 64 washes. Suitable for general use on sheets & garments, for whiter & brighter bed linen.

Why You Will Love It:
- Allergen-Free and Hypoallergenic, great for babies, children and people who suffer from sensitive skin conditions
- Natural, Eco-friendly
- Nontoxic: No Synthetic Fragrances or Perfumes, Free from Petroleum, Ethanolamine, Enzymes, Optical Brighteners, SLS, Phosphate, Phthalates, Dyes and animal by-products
- Suitable for use in situations where bed bugs or dust mites may be present
- Can be used in all water temperatures 
- Can be used to handwash delicate items
- Not Tested on Animals
DIRECTIONS
Suitable for cold and warm wash cycles.
Top Loader: Add 25ml to normal wash load.
Front Loader: Add 25ml to normal wash load.
For stubborn stains: Add 25mL to 4 litres of water and pre-soak