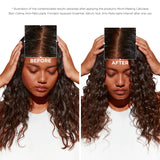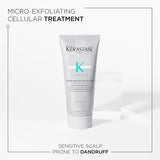 Kérastase Symbiose Scalp Purifying Micro-Peeling Scrub 200ml
We accept:  
DESCRIPTION
Experience deep scalp purification with Symbiose Micro-Peeling Cellulaire. This silicone-free and paraben-free micro-exfoliating treatment uses plant-based beads and gentle acid to remove dead cells, flakes, and soothe discomfort, preparing the scalp for deep penetration of anti-dandruff actives. The Micro-Peeling Scrub has a sensorial and luxurious texture with its transparent gel formula enriched with argan & apricot shells powder combined with a luxurious fine fragrance. After usage, roots are lifted and hair is revitalised.
Contains 1.9% Salicylic Acid.

DIRECTIONS
Take a small amount of product in your hand.

Apply with your fingertips on the center of your scalp and on the sides.

Massage generously with your fingertips in circles, then

 rinse thoroughly.​
To be used before your Symbiose Bain Crème Apaisant (shampoo).