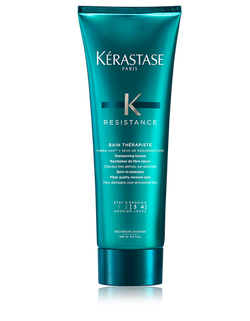 Kérastase Resistance Bain Thérapiste Shampoo
We accept:  
DESCRIPTION
Specifically engineered for those with very damaged, over-processed hair this unique jellified, balm-in-shampoo works to repair the fibre of your hair during cleansing.
Ideal for: medium - thick hair.
The Innovative formula means each fibre of your hair is protected and revitalised when cleansing, helping transform distressed and damaged hair into luscious healthy looking hydrated locks.
DIRECTIONS
Apply to damp hair, emulsify, massage and rinse.
A skin patch test before use is recommended.