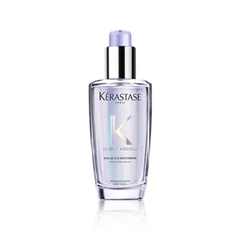 Kérastase Blond Absolu Huile CicaExtreme 100ml
We accept:  
DESCRIPTION
An intense blonde strengthening oil concentrate for sensitised, lightened or highlighted hair.
This all-star leave-in hair oil offers a deep treatment to post-bleached hair with heat protection for up to 230°. It instantly seals raised cuticles and dramatically reduces split ends, nourishing the fiber from within. Hair is instantly strengthened up to 91% and 6X more shiny. Edelweiss Oil instantly smoothes, strengthens and softens hair while providing deep nutrition.  
Intensely hydrates and plumps fiber for a 91% stronger, more resistant blonde
Reduces post-bleach sensibility and hair porosity
Seals open scales and split ends for boosted softness and 6X shinier hair
Protects hair from heat up to 230 degrees and provides 72h of frizz control
Size: 100ml
KEY INGREDIENTS
Edelweiss: Extracted from this immortal flower, rich in anti-oxidants to deeply nourishes fiber and protect hair against daily damage. Its powerful properties softens and calms sensitized bleached hair.
DIRECTIONS
For towel-dried hair before blowdrying or airdrying: Apply to 1-2 pumps to damp hair and proceed to blow-dry or air-dry.
To use on dry hair: Apply 1 pump to dry hair on lengths and ends.
Kérastase Routine
For bleaching: Use Bain Ultra-Violet once a week until desired tone is reached. Bain Cicaextreme + Masque Ultra Violet + Huile Cicaextreme daily for shinning, hydrating and texturising + Serum Cicanuit every evening to protect and hydrate during the night.

For natural dark base: Bain Ultra-Violet once a week until desired tone is reached. Bain Cicaextreme + Cicaflash to maintain shade and repair hair + Huile Cicaextreme daily as a finishing leave-in to add shine.

For curly bleached hair: Apply Masque Ultra-Violet every two weeks or whenever you notice brassiness. Bain Cicaextreme + Masque Cicaextreme + Cicaplasme daily for illuminating, hydrating, protecting and texturizing + Huile Cicaextreme daily to add shine and hydration.