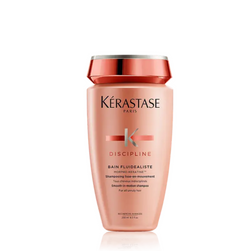 Kérastase Discipline Bain Fluidéaliste Shampoo
We accept:  
DESCRIPTION
Bain Fluidéaliste was designed for unmanageable, undisciplined fine to normal hair that is difficult to style. This rich, white, creamy gel combines active ingredients to gently cleanse the hair to the root, while supplying just the right dose of evenly distributed care to restore the hair fibre and natural touch. 
The Kérastase Discipline range has been developed for unruly, curly hair looking for shape and definition. Curly hair enjoys incredible definition without rigidity while wavy and straight hair receive anti-frizz benefits.
KEY INGREDIENTS
Morpho-Kératine™ Complex:
Morpho-Constituing Agents + Surface-Morphing Polymers: Restores  the  hair  fibre's  homogeneity  and  coats  the  fiber  to  provide manageability and anti-frizz protection.
Surface Perfector: Makes the hair smooth, soft and easy to detangle.
High Precision Care Agent: Restoration with a natural touch. Weightless effect.
DIRECTIONS
Wet the hair and gently massage into the scalp and hair. Rinse and repeat if necessary.
A skin patch test before use is recommended.