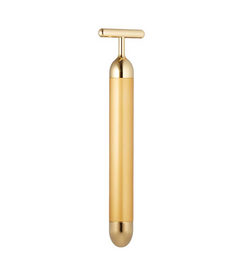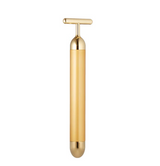 Gold Facial Sculpting Beauty Bar
We accept:  
DESCRIPTION
The Gold Facial Sculpting Beauty Bar helps to contour and tighten facial skin and structure through lymphatic drainage, and allowing skin to absorb serums deeper into the epidermis.
How it works:
The combination of the gold ions and the micro vibrations stimulate facial muscles, helping to tighten, lift, and contour. When the vibrations from the beauty bar  combine with the movement of pushing the beauty bar along facial contours upwards and outwards towards your lymph nodes, it becomes an effective lymphatic drainage massage, helping reduce morning facial puffiness and define the jawline and cheekbones.

DIRECTIONS
Perform a double cleanse and apply serum(s). Use the gold bar while serum is still damp and massage across your face for 3-5 minutes.
Suitable for all all skin ages and skin types.