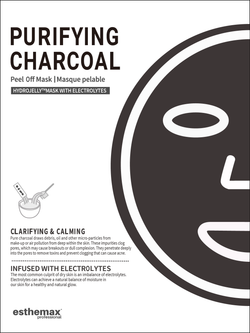 Esthemax Purifying Charcoal Hydrojelly Mask
We accept:  
DESCRIPTION
Esthemax Hydrojelly® masks are a new generation of peel-off masks boosted with algae, nourishing actives and electrolytes to help enhance the skin's ability to retain moisture and keep it healthy and glowing. Delivering a cooling and soothing effect, this mask is recommended for weekly use and comes in a pack of two 27g masks.
The Purifying Charcoal Hydrojelly Mask contains activated charcoal, which helps to draw our skin impurities, excess oil and other micro-particles left behind on the skin from makeup or air pollution. 
Suitable for all skin types, in particular sensitive skin types experiencing acne and skin irritations caused by exposure to pollutants.
KEY INGREDIENTS
Pure Hydrating Algae, Nourishing Actives, and Electrolyte technology.
Activated charcoal penetrates deep into the pores helping to remove toxins and prevent the skin from future clogging that can cause acne. 
DIRECTIONS
Apply serums if desired before application to clean skin.
Mix powder contents with the spatula from one pouch with a scoop of water in the tray provided until a smooth, paste-like consistency is achieved.
Working quickly, spread the mixture evenly over the face, from the chin to cheeks, over the forehead, nose, and the lips. Avoid eyes and lips, and apply to the decolletage if desired.
Relax for 20-25 minutes
Peel off to remove, and apply a warm towel compress to remove any residue. Do not rinse.
Suitable for all skin types.
Each pack contains:
2 x 27g hydro-jelly masks

2 x trays

1 spatula

1 scoop
100% biodegradable packaging and product. Pouches & trays made from sugarcane.
Cruelty-free. Made with certified organics. Formulated in USA. Made in Korea.