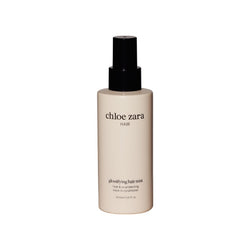 Chloe Zara Glossifying Hair Mist 150ml
We accept:  
DESCRIPTION
This next-generation leave-in conditioner has been designed to instantly detangle knots, control frizz, help to prevent hair breakage, and provide high gloss, and unparalleled shine, the latest arrival in the line-up promises to fill the gap in every haircare routine, one beautiful spritz at a time.
The Glossifying Hair Mist is a lightweight detangler and heat- protecting conditioning spray using 100% natural or naturally derived ingredients. It has been clinically proven to naturally protect hair against heat and UV damage using a powerful key active, HAIR Oléobooster®. This unique, ground-breaking ingredient is a micro- structured oil-based extract stabilised by Oléo-éco-extraction, a patented green process.
Fragrance: 100% natural fragrance created exclusively for Chloe Zara Hair in Grasse, France, with notes of sweet orange, shiu, chamomile and vanilla.

KEY INGREDIENTS
Oléobooster®, Hydrolysed Soy Proteins, Blackcurrant Seed Oil, Calendula, Chamomile 

DIRECTIONS
The glossifying hair mist has been designed to be used on cleansed hair. Mist lightly from roots to ends of damp hair. Comb through to ensure even coverage before blow-drying, or leave in hair to dry naturally to enhance hair texture with natural definition.
This leave in conditioning spray can also be used on dry hair to hydrate curls.
Apply pre/post outdoor activities such as swimming in the sea or pool.