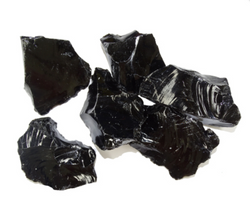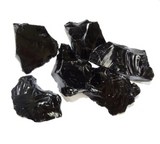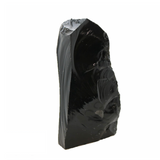 Black Obsidian Cluster 1000g
We accept:  
"

Obsidian is truth-enhancing. A strongly protective stone, it is believed to form a shield against negativity and absorb negative energies from the environment, drawing out mental stress and tension.  It stimulates growth on all levels, urging exploration of the unknown and opening new horizons.  Brings clarity to the mind, and promotes qualities of compassion and strength.

"
Obsidian is commonly found within the margins of Rhyolitic lava flows known as Obsidian flows. It is hard and brittle, and was used in ancient times as cutting and piercing tools.The most common Obsidian is pure black, while other variations have been found such as Snowflake, Mahogany and Rainbow Obsidian. 
Cut Base Obsidian

Weight: 1kg for a cluster of approx. 8 pieces. 

Each piece weighs an average of 75-120 grams.
Total depth: 200mm
Total width: 200mm
Total height: 50mm
Note: Dimensions vary as each piece is unique and may appear different than the provided images, but are good approximations for shipping purposes. Obsidian comes loose and unbranded in paper wrapping.