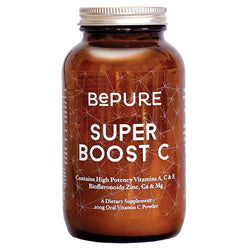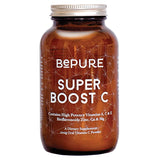 BePure Super Boost Vitamin C (200g, 60-Day Supply)
We accept:  
DESCRIPTION
High potency vitamin C for optimal absorption and immune support in an easily absorbed, pleasant tasting powder form.  
With a powerful formulation of 2:1 ratio of bioflavonoids to vitamin C, BePure Super Boost C provides your body with a top quality, high strength dose of vitamin C to keep you energised and your immune system healthy and strong. Bioflavonoids recycle the vitamin C electron, so once in your body, it essentially provides you with double the vitamin C, making BePure Super Boost C incredibly high strength.
Support For: Immunity, Energy, Bones, tendons, ligaments, skin, hair and nails, Production of collagen, Hormone production, Supports adrenals, Antioxidant protection

INGREDIENTS
Amount Per Serving:
Absorbic acid 2280mg
Calcium ascorbate 308mg
Magnesium ascorbate 794mg
Lemon bioflavonoids 1084mg
D-Alpha-Tocopherol Succinate (Equivalent Vit E 152 IU) 131mg 
Beta-Carotene (Equivalent Beta-Carotene 2.8mg) 37mg 
Zinc amino acid chelate (Equivalent Zinc 5.6mg) 28mg
Natural orange flavour 505mg
Citric acid 393mg
Sodium bicarbonate 187mg
Stevia rebaundiana 189mg
Total Vitamin C per serve 2.96g

DIRECTIONS
BePure Super Boost C is designed to be taken daily or as required, alongside wholesome, healthy meals to fill in the nutritional gaps and support health.
Recommended daily dose:
Adults (ages 12+): 1/2 – 1 tsp daily or as required in a glass (250ml) of water.
Children (ages 5 – 11): 1/4 – 1 tsp once daily in a glass (250ml) of water.
Precautions: If pregnant, diabetic or using blood thinning medication such as Warfarin, Aspirin, or if surgery is anticipated, it is advised to consult a healthcare professional before using this product. Always read the label and take as directed. Vitamins are supplementary to a balanced diet.
BePure Health Ltd, Auckland.
TAPS number: PP6677