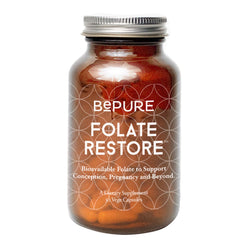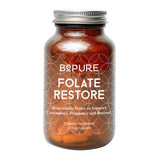 BePure Folate Restore (30 Capsules, 30-Day Supply)
We accept:  
DESCRIPTION
BePure Folate Restore has been designed to support healthy folate levels in the body, particularly for women prior to conception, during pregnancy, and postpartum. It contains a high-quality blend of folinic acid, methylated folate and iodine to support healthy development, as well as optimal thyroid function for mum.  
Support for: Fatigue, Preconception, during pregnancy and while breastfeeding, Foetal health, Healthy red blood cell production, Mood and mental wellbeing 


INGREDIENTS
Vitamin B9 as Folinic acid 250mcg
Vitamin B9 as L-5-MTHF 250mcg
Iodine as Potassium Iodide 100mcg
Additional ingredients: Microcrystalline cellulose, Magnesium Stearate

DIRECTIONS
Adult 12+: 1 capsule a day with or without food or as directed by your healthcare practitioner.
Precautions: It is not recommended if you are on thyroid medication, using blood-thinning drugs such as warfarin or are taking anti-seizure medications. Always read the label and use as directed. Supplementary to a balanced diet.
BePure Health Limited Auckland.
TAPS number: BG1139